Back to all posts
Posted on
Ward 6 School Trustee Election Hearing Notice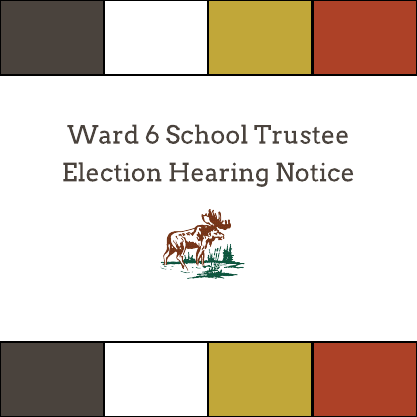 ***Ward 6 School Trustee Election Hearing Notice has been rescheduled. It is now taking place March 16-17, 2022 instead of February 10-11, 2022***
Pursuant to the Order of Justice E. J. Simpson of the
Court of Queen's Bench of Alberta:
In the Matter of a Controverted Election pursuant to section 126 of the
Local Authorities Election Act, RSA 2000 c. L-21:
During the October 18, 2021, Northland School Division Ward 6 School Trustee Election,
the following three irregularities may have occurred:
Confusion in relation to the Ward 6 School Trustee Election Boundary as it relates to the location of the voting area for the Ward 6 school trustee;
The mechanism in the main door at Mistassiniy Junior/High School self-locked having the effect of locking the main door during periods of voting time on October 18, 2021;
Depressed voter turnout for the Ward 6 School Trustee Election in comparison to voter turnout for the Municipal Election held on the same day.
Judicial Review (Ward 6 School Trustee Election Hearing) is scheduled for March 16 – 17, 2022
The Judicial Review Hearing will take place before the Court of Queen's Bench of Alberta at the Peace River Courthouse located at 9905 - 97 Ave., Peace River, AB.
Any interested party may provide an Affidavit (sworn in front of a Commissioner of Oaths for Alberta) in relation to this matter.
A Commissioner of Oaths is located in the Municipal District of Opportunity's Wabasca Office at 2077 Mistassiniy Road North, Wabasca, AB.
If you would like to view this Order (and the documentation related to the Judicial Review) and/or have access to a Template Form Affidavit to submit an affidavit, click on the website links below. 
Template Form Affidavit (After clicking on the website link, you will need to save or download the document. This is required to view and fill out the affidavit.)
If you have any issues downloading the affidavit please contact Media Relations Manager Curtis Walty at 780-624-2060 ext: 6183. 
Alternatively, the Template Form Affidavit can be found at: www.albertacourts.ca/qb/areas-of-law/civil/forms. The Template Form Affidavit is "Form 49 – Affidavit (Generic)" and can be downloaded as a PDF.