Back to all posts
Posted on:
St. Theresa School students participate in Outdoor Learning workshop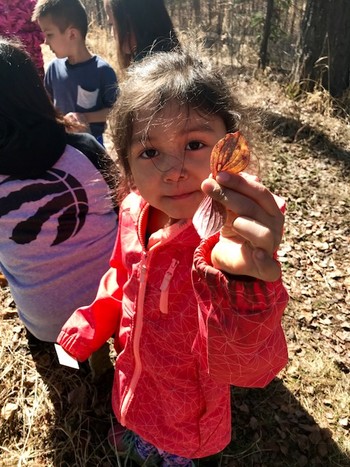 On May 4, Mrs. Bailey's and Mrs. Daniel's kindergarten classes participated in "Outdoor Learning" workshops with Northland's Assistant Supervisor of Student Services Mandi MacLennan. The workshops were meant to highlight the benefits of taking learning outside and the upcoming "Outdoor Classroom Day" on May 17th. Learning outside promotes physical, mental, academic, and social benefits for all students. 

Not only did the activities meet many outdoor learning objectives, but they also covered several cross-curricular outcomes. The students started off with some light activity to warm up their bodies and brains by doing some animal and nature stretches and a talking circle to discuss the importance of getting outside. 

From here, students were divided into small teams of 5-6 students. The first activity they did was one where each member of their team received different colour paint swatches and they participated in a nature walk to find things in nature the exact hue of their respective swatches. The team that found perfect hues first won the competition. This lead to a discussion about the many colours in nature. 

The second activity involved listening to a story about a mythical creature named "Lily the Ladybug Fairy" and about the community she lives in. They then went on a hunt to find the creature and then discussed how her community could be made from things found in nature. Students discussed what a community is, what is found in a community, and how communities can be peaceful.

The culminating activity was that the teams had to create their own mythical creatures from clay and then work as a team to build communities for them to live in built from things in nature. The session ended with a tour of all the communities they built with students explaining their awesome creations. 

All students had a great time and learned a lot in the process!