District Emergency
School closures due to Evacuation Orders
School Closures due to wildfires
Career Pathways School, Wabasca Alberta
Mistassiniy School, Wabasca Alberta
St. Theresa School, Wabasca Alberta
Calling Lake School (school will re-open on Monday, June 17, 2019)
Chipewyan Lake School
Pelican Mountain School (Sandy Lake)
Paddle Prairie School
Any decision regarding school operations will be announced once more information becomes available.
Evacuation Orders
Sunday, May 26, 2019, at 6:00 p.m.: Paddle Prairie Métis Settlement
Re-entry for communities previously under Evacuation Order
Wednesday, June 12, 2019: Phase 3 Re-entry (Return of Residents) for Wabasca-Desmarais, Sandy Lake and Chipewyan Lake. The threat of wildfire still exists for the above-mentioned communities. As a result, an eight (8) hour Evacuation Alert will remain in effect.
Question and Answer page for students, parents, staff impacted by the wildfires
Click here to view the Question and Answer page.
School News
School Board Trustee Elections information for parents and community members
Posted on

October 12th, 2017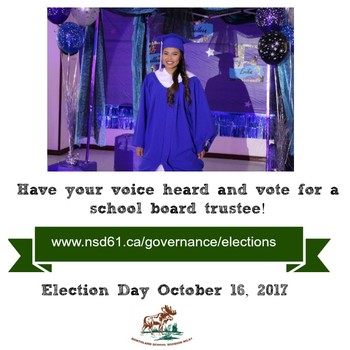 Do you want to ensure St. Theresa School students are strong in identity, healthy and successful? Have your voice heard and vote for a school board trustee! School Board Trustee Election Day is October 16th.
Voting will take place at St. Theresa School between the hours of 10:00 a.m. and 8:00 p.m. 
In order to vote: you must produce identification for inspection.  The identification must be one or more piece(s) of a government-issued identification containing the elector's photograph, address and name.  This includes an Operator's (Driver's) license or an Alberta Identification card.  In addition, if your government-issued identification has a box number as your address you must produce a second document that contains your civic and/or legal land address.
Click on the website links below to view Ward 7 maps
Version 1: http://nsd61.ca/download/114276
Version 2: http://nsd61.ca/download/114277
Version 3: http://nsd61.ca/download/114279
Version 4: http://nsd61.ca/download/114280
Questions?
Contact the following:
Trudy Rasmuson, Returning Officer: trudy.rasmuson@nsd61.ca  (780) 624-2060 
Melanie Mantai, Executive Secretary: melanie.mantai@nsd61.ca (780) 624-2060 ext. 6104
Lois Byers, Official Trustee: lois.byers@nsd61.ca (780) 624-2060