District Emergency
School closures due to Evacuation Orders
School Closures due to wildfires
Career Pathways School, Wabasca Alberta
Mistassiniy School, Wabasca Alberta
St. Theresa School, Wabasca Alberta
Calling Lake School (school will re-open on Monday, June 17, 2019)
Chipewyan Lake School
Pelican Mountain School (Sandy Lake)
Paddle Prairie School
Any decision regarding school operations will be announced once more information becomes available.
Evacuation Orders
Sunday, May 26, 2019, at 6:00 p.m.: Paddle Prairie Métis Settlement
Re-entry for communities previously under Evacuation Order
Wednesday, June 12, 2019: Phase 3 Re-entry (Return of Residents) for Wabasca-Desmarais, Sandy Lake and Chipewyan Lake. The threat of wildfire still exists for the above-mentioned communities. As a result, an eight (8) hour Evacuation Alert will remain in effect.
Question and Answer page for students, parents, staff impacted by the wildfires
Click here to view the Question and Answer page.
School News
Reading Fair 2016
Posted on

May 19th, 2016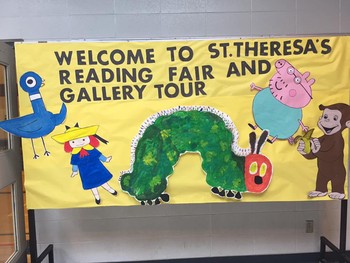 St. Theresa School hosted its annual "Reading Fair" May 17th. Parents and community members attended in droves to see students showcase their favourite book through a storyboard display; some students even dressed up in character! From 9 a.m. until noon, judges evaluated the structure and creativity of each storyboard and asked students specific questions about events and characters from the story. Congratulations to "Reading Fair" winners and to all students, teachers and volunteers who made this event wonderful and possible!
Kindergarten
1st place - J.Lynn McLeod & Shanae Blakeney
2nd place - Nyasia Cardinal and Aubree Orr-Cardinal
3rd place - Taylor McLeod
Grade 1
1st place - Shaznay Cardinal & Aynsley Bilyea
2nd place - Melissa Cardinal
3rd place - Kai Mills
Grade 2
1st place - Darby Bissell & Ashley Auger
2nd place - Amerrah Alook & Whitney Greyeyes
Grade 3
1st place - Zain Ibdah & Avery Gladue-Auger
2nd place - Travis Gullion & Lexi Auger
3rd place - Emery Gullion & Zack Bilyea

Grade 4

1st place - Georgia Malloy & Airise Nanimahoo
2nd place - Harmony Noskiye & Maria Cardinal
3rd place - Lacey Brule & Chazlee Supernault

Grade 5

1st place - Yasmine Abdalrahim
2nd place - Alexis Alook
3rd place - Ghada Moallem & Helena Cardinal
Grade 6

1st place - Gracie Peecheemow & Eva Houle
2nd place - Allanah Bigstone & Shavauna Roasting