District Emergency
School closures due to Evacuation Orders
School Closures due to wildfires
Career Pathways School, Wabasca Alberta
Mistassiniy School, Wabasca Alberta
St. Theresa School, Wabasca Alberta
Calling Lake School (school will re-open on Monday, June 17, 2019)
Chipewyan Lake School
Pelican Mountain School (Sandy Lake)
Paddle Prairie School
Any decision regarding school operations will be announced once more information becomes available.
Evacuation Orders
Sunday, May 26, 2019, at 6:00 p.m.: Paddle Prairie Métis Settlement
Re-entry for communities previously under Evacuation Order
Wednesday, June 12, 2019: Phase 3 Re-entry (Return of Residents) for Wabasca-Desmarais, Sandy Lake and Chipewyan Lake. The threat of wildfire still exists for the above-mentioned communities. As a result, an eight (8) hour Evacuation Alert will remain in effect.
Question and Answer page for students, parents, staff impacted by the wildfires
Click here to view the Question and Answer page.
School News
International Literacy Day
Posted on

September 9th, 2015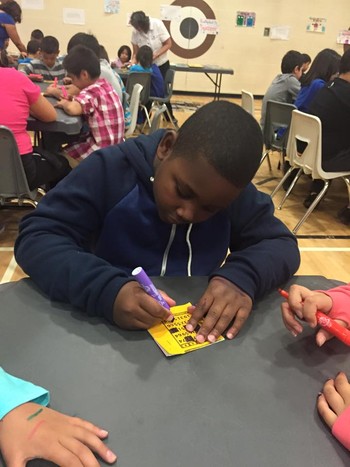 St. Theresa School celebrated International Literacy Day September 8th. This year's theme focused on life in the Philippines. In the morning, students listened to a family from the Philippines talk about way of life, special costumes and local cuisine. Gil and Joy, who now reside in Wabasca-Desmarais, brought in Filipino dishes such as breakfast bread, coconut pie, rice cakes topped with cheese and a noodle dish that was very similar to chop suey loaded with scallops and shrimp. The noodle dish is generally served on special occasions and represents long life.
Their son, Juan, a grade 6 student at the school, educated everyone in attendance about Tagalog, a language spoken in the Philippines. After learning some Tagalog, St. Theresa School Teacher Peggy Wheeler presented information about what happened in the capital city of Manila after Typhoon Haguipit. Wheeler says the presentation was made up of photos she received from a friend who does missionary work in Manila. 
In the afternoon, students played "Bingo for Books"!