District Emergency
School closures due to Evacuation Orders
School Closures due to wildfires
Career Pathways School, Wabasca Alberta
Mistassiniy School, Wabasca Alberta
St. Theresa School, Wabasca Alberta
Calling Lake School (school will re-open on Monday, June 17, 2019)
Chipewyan Lake School
Pelican Mountain School (Sandy Lake)
Paddle Prairie School
Any decision regarding school operations will be announced once more information becomes available.
Evacuation Orders
Sunday, May 26, 2019, at 6:00 p.m.: Paddle Prairie Métis Settlement
Re-entry for communities previously under Evacuation Order
Wednesday, June 12, 2019: Phase 3 Re-entry (Return of Residents) for Wabasca-Desmarais, Sandy Lake and Chipewyan Lake. The threat of wildfire still exists for the above-mentioned communities. As a result, an eight (8) hour Evacuation Alert will remain in effect.
Question and Answer page for students, parents, staff impacted by the wildfires
Click here to view the Question and Answer page.
School News
Grades 2-6 participate in drumming and round dance activity
Posted on

March 23rd, 2016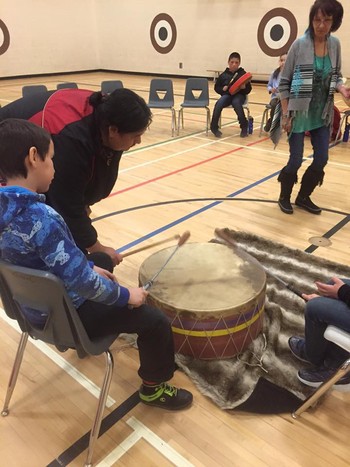 Students in grades 2-6 participated in a drumming and round dance activity on March 22nd. The students in attendance regularly attend the school's drumming literacy clubs. The school invited community member Freddy Gladue to come and talk to students about various drums he brought with him and how they were made. He also talked about the honour song and shared some life lessons about staying clean. Everyone in attendance practiced some drumming skills and participated in a round dance as Freddy sang and played the pow wow drum. Photos and videos are also available on the school's Facebook page!