District Emergency
School closures due to Evacuation Orders
School Closures due to wildfires
Career Pathways School, Wabasca Alberta
Mistassiniy School, Wabasca Alberta
St. Theresa School, Wabasca Alberta
Calling Lake School (school will re-open on Monday, June 17, 2019)
Chipewyan Lake School
Pelican Mountain School (Sandy Lake)
Paddle Prairie School
Any decision regarding school operations will be announced once more information becomes available.
Evacuation Orders
Sunday, May 26, 2019, at 6:00 p.m.: Paddle Prairie Métis Settlement
Re-entry for communities previously under Evacuation Order
Wednesday, June 12, 2019: Phase 3 Re-entry (Return of Residents) for Wabasca-Desmarais, Sandy Lake and Chipewyan Lake. The threat of wildfire still exists for the above-mentioned communities. As a result, an eight (8) hour Evacuation Alert will remain in effect.
Question and Answer page for students, parents, staff impacted by the wildfires
Click here to view the Question and Answer page.
School News
Community Engagement Discussion
Posted on

January 6th, 2017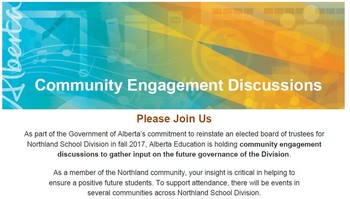 The Government of Alberta is committed to working collaboratively with members of the Northland School Division community to take action and help ensure a positive future for students of the division. Part of this commitment means working to restore the division to an elected board of trustees in fall 2017, to coincide with the next school board elections.
To ensure communities have an opportunity to have their voices heard, and to gather input on the future governance of the division, Alberta Education is holding a series of community engagement discussions.
DATE

TIME

VENUE

ADDRESS

January 24

5:00 - 7:30 p.m.

St. Theresa School

2733 Neewatin Drive
Wabasca-Desmarais

All interested members of the community are welcome to attend. A meal will be provided at each session.
We look forward to meeting with you to explore how we can work together to ensure an effective board structure and, ultimately, improve student learning.
If you have any questions, you may contact Nathan Freed, Director, North Services, Alberta Education, at 780-422-0795 (toll-free in Alberta by first dialing 310-0000).